Seems that something is happening within the OGAM world as by all accounts Osprey sold out of all their copies at Salute :) I certainly saw loads of people with the book as I walked around. Of course getting the rules is only the first part of a game, you really need to get miniatures for it - it would be a bit of a poor miniature game without them - so I thought it might be useful to blatantly steal an idea from Colonel Marbles over at
Frothers
and do a showcase to suggest places you can go look at for miniatures. Of course these are just my opinion, please let me know places that I have missed out in the comments.
Right enough preamble, lets get on with it
Gods
Gods are often the hardest miniatures to source for OGAM as you are looking for something in a very different scale so you can convey the majesty of your chosen. 54mm is the suggested scale for god models but even within that you get such a variety of size as to make specifying a scale pretty much worthless. So instead here are a few manufacturers that you might find useful.
Northstar
- The home of the 'official' OGAM miniatures, Northstar have models for both Ares and Zeus himself. As with a lot of the Northstar stuff the casting can be a bit hit and miss on the figures but they are nice sculpts.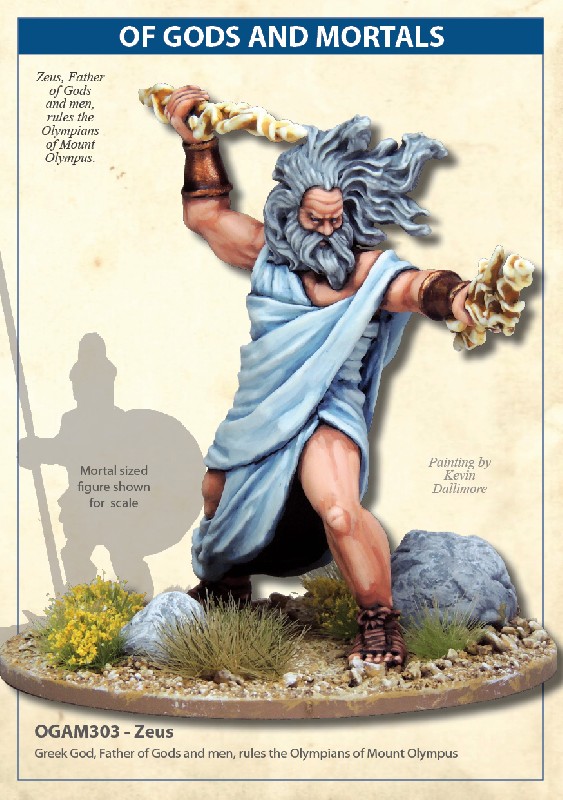 Andrea Miniatures
- Andrea make a lot of really nice 54mm and bigger models especially in their general range that you can use as various different gods. I like this one as a possible Ares and my friend Duane uses another one as Hermes.
Eastern Front Miniatures
- A boutique range from the US and TBH my order hasn't been delivered yet but they make a lovely looking Nepture that is sculpted by Gael Goumon so no slouch in the sculpting department.
Valiant Enterprises
- Another US company with frankly a horrible website, its slow, really hard to find anything on and has some truely awful miniatures. However there are nuggets of goodness in amongst the drek and the best of these is this amazingly awesome resin model that makes the perfect Zeus.
Painted by Joel Henry
Next post will be all about the Greek Legends and blimey, do they have a lot of them.